As a father of three little girls, I can certainly relate to the image below. Kids flocking eagerly to the neighborhood ice cream truck, excitedly waiting, hoping their favorite treat is still in stock when it is their turn.
The picture from years ago could have been an exact replica of a scene outside of my house this past hot weekend in Michigan.  Before you can see the ice cream truck, you can hear it.  For kids, it must go deeper. I swear my 5-year-old daughter could 'feel the truck' before it came down the street.  When that occurred, my fate was sealed. I dug through a weeks' worth of work clothes and found the necessary cash (like, who has cash anymore) and paid the toll for my daughter's happiness.
A Klondike bar.
As I sat looking at this picture later that evening, recounting my own ice cream truck experience, I couldn't help but reflect on the fact that wow, things certainly do change throughout the years!
The image says it all.  The truck itself is a classic. The children's clothes are so different. I don't see the kids wearing any Cat and Jack or the latest from Athleta that's for sure. The world, from a fashion sense, is thankfully a very different place.
Heck, even the ice cream trucks are a little more advanced.  When doing research for this article, I found this truck (didn't know Mercedes was in the ice cream truck business)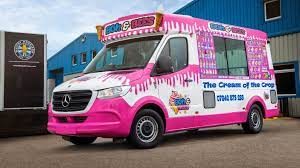 However, much of what's happening when the ice cream truck arrives remains the same to this day.  Kids crave ice cream.  Still do.  Heck, we all do.  When the specter of an ice cream trucks enters your neighborhood, kids will flock like moths to a flame.  It's amazing, you can walk through the ice cream aisle at a local store, and get a small reaction.  But that iconic truck, with all the sounds, and the large pictures of delicious treats rolls up to your house, and its game on.  There is no stopping it.
As a matter of fact, if you even hint to your children that they won't partake, a sense of FOMO (Fear of Missing Out) arises so fast that they outright ignore you before bursting out the door to get their place in line.
I can't help but think of today's world of investors and investments like an ice cream truck, rolling into our lives to entice us to eat and get our place in line before all the good stocks are taken.  There are lessons to be learned here, for all investors.
In many important ways the investing world is very different from the time in the photo.  We have experts providing commentary each day, free online trading, a 24/7 loop of data analysis and forums of internet investors sharing their views and collaborating.  50 years ago, none of that existed. Even the tools we use today are faster, stronger, better, and cheaper than ever before. (#robinhood anyone?)
Advances in knowledge and technology in fields like medicine, robotics and aviation have lead to remarkable improvements in our lives.  We are simply better in those areas now than 50 years ago. As a result, we are living longer, producing goods faster and can travel faster and safer than ever before.
You would expect to see the same results in investing but we haven't. A yearly study by Dalbar Inc. proves time and time again that while the stock market does about 8% most years, investors actually do something closer to 5%, woefully underperforming the market.  We may actually be getting worse.
Why hasn't advancement in technology it had the same affect in investing?  Why aren't we better at this?
It is because investing success is less about technology and information and more about good decision making and decision making is largely based on our emotions and psychology.  We are still the same kids in the photo. Our mental hardware making decision is the exact same as 50 years ago, 500 years ago, 5000 years ago.
We may have more computing power in our palm that they had in the Apollo spacecraft that landed in the moon, but we still have the same brain.
Ice Cream Brain.
As Daniel Crosby says in his book The Behavioral Investor.
"Our brains have remained relatively stagnant over the last 150,000 years, but the complexity of the world in which they operate has exponentiated. Formal markets like our stock market are just about 400 years old. It would be a gross understatement to say that our mental hardware has not caught up to the times."
He continues.
"I'd like you to remember three important truths about the brain by visualizing a tweed-clad septuagenarian in line at a steak buffet at 4 p.m. Just like the person you've imagined, your brain is old, hungry, and impatient."
Hungry and impatient, sounds like my kids this past weekend.
Therefore, as much as things have changed, our brains have remained the same.  Your investing success is not dependent on getting quicker access to better information. Rather, it's 100% dependent on how you govern your emotional response to risk and reward. 
What's the number one rule of investing?  Buy low and sell high?  Easy to say, tough to do.
We know we should buy low and sell high.  And when the market is low our brain should be screaming Buy! Buy! Buy!  But it is not.
It's screaming Survive! Survive! Survive!
On the flips side, when the markets are up and the airwaves are filled with stories of market all-time highs and people getting rich on meme stocks like AMC and GameStop. It's at that time FOMO takes over and all triggers us to join in the fun. Just like my kid, hearing the sounds of the truck, there is no way are they going to stay in the house when all the other kids are having ice cream.
FOMO. Buying High.
Ice Cream Brain.
This is not isolated to just the people with little financial experience or expertise.
I recently was paired up in my golf league with two other business professionals that were very nice guys. (And equally bad golfers as myself) One was a commercial banker and the other owned his own insurance agency.  These are people not unfamiliar with financial markets.  They are not unfamiliar with making decisions.  Once they found out I was a financial planner and got to know me, they started to probe me about the markets.  You know what they wanted to know most?  How can they make money on AMC stock?  Spoke about it for at least 45 minutes.
Ice Cream Brain.
The paradox of it all is that even though our brains are wired for safety, the 'safest' time to invest in the stock market is when it is low and the least 'safe' time is when it is high.  Yet, that's not what normally happens. We know that the majority of investors pull money out when the market is low, and add money in once the market has recovered or is high.
It patently illogical to buy more when prices are high and sell more when prices are low but that's what happens.
Ice Cream Brain.
Why is it so tough to buy low?  The issue stems from how the market becomes 'low' in the first place.  Investments don't fall when times are good, they fall because there is a problem.
Problems threaten our safety, and when are security is threatened, we hunker down and wait.  Markets continue falling because no one wants to jump in because the threat is too real.
Think about it like this. What would you think if an ice cream truck visited a kid filled neighborhood and no one came out to buy ice cream?  Nothing had changed, other than no one seemed to be flocking to the truck.  Hmmm.
You become concerned.  If no one else is 'buying' there must be a reason. You might look out and say, ''whoa kids, hold up something is not right." You call your neighbor and they heard someone got sick on a cone last week.  Someone else says the ice cream is past it's due date. Another neighbor said she heard that the operator employs convicted felons.  Rumor's fly, people get scared and no one let's their kids leave the house.  Crying ensues.
The truck rolls on to the next neighborhood where the kids feast.  Turns out later than none of those rumors are true.  Your kids are mad. You feel regret. Next time, you won't be so hesitant.
This happens in investing all the time.  Has it happened to you?
To succeed in investing you need to get a handle on yourself.  'Know thyself' is not just for philosophers.  Savvy investing does require smartly using today's innovations: tech tools, real time information and ready access to financial advisors. (We are new too!)
But more importantly, we need to know thyself.  We have to balance the 'new' with the fact that we are still equipped with ancient hardware controlling emotions and feelings and is constantly in need of maintenance to ensure we don't go down a wrong path.
Remember, we are born with ice cream brains. We can't control it. But we can control how we eat the ice cream,
Eat too slow, be too conservative, and the ice cream will melt.
Eat too fast, be too aggressive because of FOMO, bring on the painful brain freeze.
It's all in the balance.  You need to find yours.  Doing so will allow you enjoy the Rocky Road, whether it be ice cream or investing.
Yours in investing success.
Not sure how do discover your balance? We can help. Click here to contact us for a no-pressure, no obligation talk. 
"The opinions and forecasts expressed are those of the author, and may not actually come to pass. This information is subject to change at any time, based on market and other conditions and should not be construed as a recommendation of any specific security or investment plan. Past performance does not guarantee future results."