Dear friends,
With Christmas and New Year's right around the corner, I'm sure many of you are focused on other, more important items other than the state of the stock market. Yet, it's tough to get away from both the ever-present news and the current poor state of stock market.
Rather than wait any longer, I wanted to share with you some of our feelings and perspective on the 'Grinch' that is our current market. It's our hope that we may bring some perspective in what looks like troubling times in the financial world.
Whenever the market rises or falls fast, it is accompanied by a slew of 'expert' opinions explaining what's happening and what you need to do about it. Although we may or may not be in a 'bear' market, there is certainly a 'bull' market in opinions. (And I'm about to give you mine!)
For example, earlier this week in our office we had on CNBC as usual. At a desk with five 'talking heads', pundits spoke on the looming doom and gloom they expected for the market in 2019. They talked about the current tribulations seen in the market and cited the Dow being at a nine-month low, the NASDAQ reaching a 13-month low and the S&P hitting at a 14-month low as three factors giving reason to worry. Ouch.
It is true that since October 1 we've seen big dips across the board – in both stocks and bonds and here in the U.S. market and internationally. We've had concerned clients echo some of these sentiments during our review meetings. We hear you loud and clear.
One common question we get a lot right now is about the relation with the stock market and the economy.
Why is the market doing so poorly when the economy is doing so well?
One of the largest and most successful financial advisors in the nation, Ric Edelman addressed this in his weekly radio show.
"There's a difference between the financial markets and the health of the economy," Edelman said in his December 15th podcast. "The economy is in fact doing well. But the financial markets don't always move in sync with the economy. The reason is the markets are trying to predict what the economy is going to do next as opposed to pricing the securities based on what the economy is already doing."
Edelman referenced a client who was upset about his portfolio losing 6% in value over the course of the last two months. Edelman gently reminded him that the U.S. market had lost close to 11% in that span, further enforcing the necessity and security of a diversified approach. As his financial advisor and coach, Edelman was trying to provide some perspective to his client.  He was doing that not simply to make the client feel better about this portfolio, but rather to feel so much better that he didn't take any rash action — like getting completely out of his well-designed portfolio.
Short-term trends and corrections are common for the market and they happen from time to time. It is important to have overall perspective when looking at the market as a whole and how it relates to your portfolio. Edelman further strengthens this argument when he looked at the Dow in December 2017. It was at 23,922. On the day of his podcast, the Dow was 23,881.
"How upset would you be if I told you that the Dow fell 42 points in a day?" Edelman remarked. "That's what happened in the past 12 months total!"
The lesson we need to remember is that daily, weekly, and monthly swings in the markets is the 'price of admission' for the potential of the long term gains the market provides. The number one key to successful investing is maintaining the proper temperament when confronted with the stress, emotion and fear that the market brings when things don't go to plan.
I cannot underestimate this point. Getting out when the market is rough and waiting for the market to calm down before re-entering is a recipe for disaster. Research clearly indicates that time and time again, as much as we want to buy low and sell high, we often do the opposite.
For example, in the much cited Dalbar study on investor behavior, the markets between 1995 & 2015 returned 8.19%, but the average investor did 4.67%. The impact is amazing in actual dollars.  (see below)
So, how do we tune out the noise, fear and concern. We are human after all. Perspective is the answer again. Which brings me to my next point… the actual market. After all is said and done, are we posed for a bear market? Are we going to go further down? Are the pundits on CNBC right? Is the financial world collapsing?
Sometimes I have an annoying habit of answering a question with another question. Before answering about 'where the market is going' please consider this….
Are the recent stock market losses, crazy ups and downs and volatility normal? 
Or is it extreme?
Sarah Hansen helped to explain this in a recent piece in Forbes.
"It's not that 2018 has been unusually volatile, it's that 2017 was unusually calm. The shock for investors this year wasn't abnormal volatility, it was the shock of returning to the status quo," Hansen wrote. "It also hasn't helped that much of the volatility this year has been on down days, compared to the relatively tranquil bull market run of 2017."
Hansen also explained how the S&P moved by 1% on just nine separate trading days in 2017. The average year sees 52.  In 2018, there have been 56 days, more of a return to that average but also a sharp contrast when compared to the smooth sailing of last year.
We contend that it's not the market that has changed. We have changed. 2017 was truly remarkable for BOTH its growth and its lack of any real worry. The market did something it almost never does, go up a little, week by week, month by month, with little or no noise at all. We may never see that combination again.
I don't mean to discount some of the very real concerns that are currently driving the market down. Yes, a trade war with China, rising interest rates, and global growth slowdowns are real, not fake news. We only contend that if you look closely, there is always going to be something to worry about and bad news and markets ups and downs are the rule, not the exception. (see below)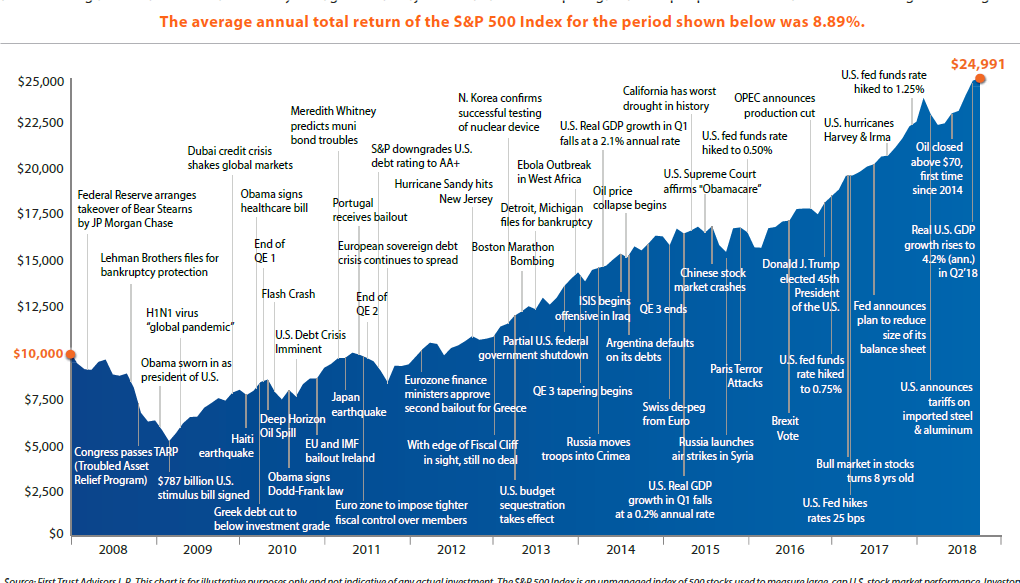 As you can see above, we've been through a lot in the last 10 years. Brexit. Greek Debt. Ebola. North Korea. Elections and much, much more.
I'll leave you with one more thought. The decision to invest in equities needs be tied to your financial plan and your time horizon for owning stocks needs to be longer than next week, next month or even next year.  So, don't concern yourself with whether the Dow is going to go to 27,000 or 22,000 by January. It's actually not important in regards to your overall timeline. You should own stocks because you believe that one day, in seven to nine years that the market will be 50,000-60,000. (7-9% ROR)
So when you are opening presents and having eggnog this holiday season and you see a some news report in the background predicting doom and gloom – remember the lessons above. Turn it off. It can wait. This is more 'normal' than you think.
Have a very Merry Christmas and Happy New year!
Your friends at Mission Point Planning and Retirement
"The opinions and forecasts expressed are those of the author, and may not actually come to pass. This information is subject to change at any time, based on market and other conditions and should not be construed as a recommendation of any specific security or investment plan. Past performance does not guarantee future results."