"Investors panic as the S&P 500 crashes to a year to date return of +14.5% in 2019
-Ben Carlson (Twitter, 8/5/2019)
We don't have to be smarter than the rest.  We have to be more disciplined that the rest."
—-Warren Buffett
We have a saying in my house. And it's that whenever I go on vacation, even for a few days, the markets go berserk. This actually started back in 2008 when I went to Mexico for a mission trip for my church and the market, in the midst of the great recession, seem to lose 400-500 point each day!  These losses were tremendous by 2008 standards as the market (DJIA) was only about 13,000 at the time. Although I came back from the trip, rejuvenated and in great spirits, the market did not share my new outlook on life.
This phenomenon has continued in the 11 years since. Through weddings, honeymoons, family vacations and conferences, I seem to find myself repeatedly coming back to a market in turmoil.
So, here I find myself at waterpark in Ohio this past Sunday and Monday with all of the other helicopter parents carefully watching their kids dunk each other in the pool that I had a random thought," hmm, it's a day off for me, I wonder how the market is fairing?"
I checked. Down 1000 points. Point taken world.  I won't take a day off.
All joking aside, I wasn't 'that' out of touch.  In between water slides and changing diapers, I had read the news, knew President Trump had increased his tariffs and China was getting ready to retaliate. The market had already started to react negatively last week and we made the trade war a big part of our Thursday night discussion.  Still, there's nothing like the real thing to bring it into perspective.
So, I did what any self-respecting financial advisor would do.  Nothing for a while.  I returned home that Monday evening and read the aftermath and the analysis.  Having seen this movie before I thought it best to get my thoughts out to my clients sooner rather than later.  I think it's at time like this that 'perspective' is in short supply within the media and much needed for investors.
Therefore, I am distilling Halftime 2019 into 4 important takeaways for you below.  I hope you enjoy them and can take some solace in their perspective as you weather the current market storm.
Lesson 1: Separate your politics from your money.
Political rhetoric is everywhere and both people on the left and the right can get overheated when talking about the important issues of the days.  As a citizen, I too have strong feelings and beliefs about the direction of the country on key issues.  However, Tony the 'citizen' is different than Tony the 'investor' or the 'advisor.'  Simply put, basing investment decisions on whether or not you're a fan of the guy in the oval office is a recipe for disaster.   It might not seem like it, but public policy is only one of many factors affecting the direction of the economy.
For example, in the present situation it is 100% possible for you agree with tariffs and the hardline stance with China but also appreciate that tariffs don't help the stock market right now.
Rather than acting emotional (either high and low) Let us remember that in the long run, we may remember this time and angst as only a blip on the radar of market growth.   Don't worry, we'll have something else to focus on in a few months.
Lesson 2: Market turbulence is normal.
We just call turbulence something different each time.  Right now, we are worried about trade and interest rates.  One year it's Brexit.  Then it's the Greek debt crisis.  Then it's the Lions heading coaching situation, etc
Market Timing (or jumping in and out of the market) based on current market 'worries' is simply not going to work.  On Thursday, we showed the statistic that missing the 10 best days in the market over the last 20 years cut returns almost by 50%. We also showed that some of the very best days in the stock market in the last 30 years were on the heels of some of the absolute worst!   (See below)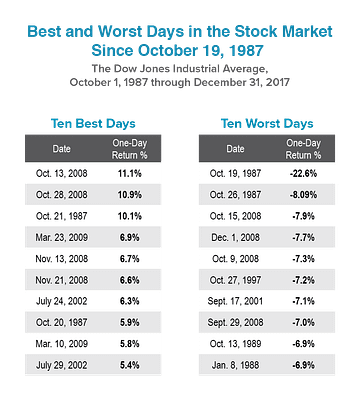 Remember, it's not 'timing the market' that matters but 'time in the market' that matters.*
Lesson 3: The Fed is not your friend, or your enemy.
Depending on how you feel politically right now, you may hate or love the Fed.  Believe me, the feeling is not mutual, they don't care about your party politics.  The Fed's job is to stimulate growth while keeping inflation in check.  Growth and inflation are polar opposite objectives and take a deft touch to manage.  To illustrate this point, it is helpful to think of the 'economy' as a campfire and the Feds 'use of interest rates' like adding or removing gas and wood from the fire.  Too much gas on the fire will cause quite a blaze, but may burn the fire out completely for lack of wood (high inflation) while not enough gas or wood sometimes causes the fire to go out as well. (low growth)
In the end, the Fed wants a nice fire for a long time.  No highs, not too may lows.
Lesson 4: Asset Allocation and Diversification works, but wow does it feel weird.
Diversification is so easy on paper, but so hard to pursue.  I stated that pursuing a good asset allocation and diversification strategy means accepting two things.
You must accept that prediction is impossible
On a day to day basis, predicting the market is futile and impossible.  Entire networks are devoted to making you believe that you can know the future and play the market.  I think we should stop.
We don't need to predict when or where the next 1000 pt. swing in the market will be.  We only need to think about if we believe the market will be higher in 10 years than it is today.  Therefore, what we need is time, not better ideas.
Remember my Warren Buffet quote from Thursday night: "We don't have to be smarter than the rest.  We have to be more disciplined that the rest."
You must accept the fact that someone, somewhere will tell you about a better investment.  
Being diversified means you own the good, and the bad at any given time.  You will also hear about a hot stock, fund or scheme from a neighbor, the news or some infomercial on late night TV.
"Bitcoin is making millennials millionaires!  "The US dollar is going broke! Buy Gold!"  "Did you hear about Amazon?  I'm up like 50%!"
That's ok, they can own that stuff. Because when those investment go down, they'll be replaced by a new army of investments owner by a new group of people that will tempt you. Rather than chase performance, we showed that over the last 20 years being diversified actual resulted in more money for the average investor.  Boring stuff, but effective.
_____________________________________________________________________________________
So that's it, 90 minutes of advice and market news distilled into a few pages of text.  Of course, at the event itself we spoke about global growth forecasts, Brexit, inverted yield curves, stock buybacks and more. However, we believe the four lessons above represent the biggest take-ways from Halftime 2019.
Tony and The Mission Point Team
*Source: Morningstar Direct, March 2018 The Dow Jones Industrial Average is a price-weighted average of 30 actively-traded blue chip stocks. The Index does not incur or include trading or other costs. Indexes are unmanaged baskets of securities that investors cannot directly invest in. Past performance is not a guarantee of future results
***The opinions and forecasts expressed are those of the author, and may not actually come to pass. This information is subject to change at any time, based on market and other conditions and should not be construed as a recommendation of any specific security or investment plan. Past performance does not guarantee future results. Diversification seeks to reduce the volatility of a portfolio by investing in a variety of asset classes.  Neither asset allocation nor diversification guarantee against market loss or greater or more consistent returns.