Introducing our Four-Part Series on Long-Term Care
Way to go! You just retired and you have all of your ducks in row.
You've said goodbye to your fellow co-workers, completed your retirement forms, called your travel agent about that long-desired river cruise and met with your financial advisor to review your portfolio.  You're good to go!
Year #1 of retirement is going to be great!
But wait a minute, didn't you forget something? Did you talk with your advisor about one of your biggest risks in retirement? A risk that could literally wipe out ALL of your retirement savings?
We aren't talking about the stock market; we're talking about the necessity of long-term care. Or should I say, the high probability of having to pay for long-term care?
The facts are simple. 70% of people age 65 right now will need some form of long-term care.* 
The facts are expensive:  The cost of long-term care is staggering. A semi private room (you get a roommate) while living in Michigan is almost $7,000.00 a month.**
That's not me, the insurance company or a 'sleazy insurance salesman' scaring you in to something you don't need. That statistic comes directly from the U.S. Department of Health and Human Services.
Also, before you can accuse the government of casuing an uproad to scare people and coerce them into buying one of those government-run insurance programs that pay for long-term care; let me let you in on a little secret. That tax payer 'LTC program' doesn't exist.  You're on your own.
The only program that remotely looks like this is Medicaid. In order to qualify for benefits you need to spend down almost all of your assets first, and only will then will they step in with aid. Yes, all those years of hard-earned savings must be spent first. That hurts. Unless you buy insurance.
But the question is, will you buy life LTC insurance? Do you need it? Can you afford it?
The Situation.
If you knew of 'something' that had a 70% chance of occurring, and that 'something' was going to cost a ton of money and possibly eradicate your retirement savings wouldn't you plan for it in some meaningful way?
Wouldn't you at least try to determine if your retirement plans would survive that 70% chance event —even if it simply meant setting extra money aside?
Our Purpose.
Planning for long-term care is often overlooked by both clients and financial advisers – leading to potentially disastrous results. As in most facets of sound financial planning starting earlier is significantly better. The sad fact is that taking care of a loved one in a nursing home is both personally tough on families and financially stressful. I've head clients lament about how they only wished that had addresses the situation sooner.
We know that people are actually concerned about long-term care and are considering buying insurance, but the lack of knowledge for many is a big roadblock to action. For example, in the 2019 Insurance Barometer Study, Lifehappens.org*** surveyed consumers to identify the difference between consumers need, ownership and knowledge across the various insurance lines.
By far the largest gap between 'I need' and 'I own' was long-term care insurance with a difference of 40%!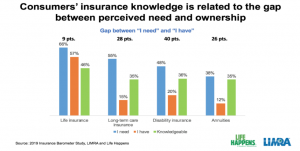 In summary:
70% of people age 65 right now will need some form of long-term care
55% of people believe they need some form of long-term care insurance
15% actually have long-term care insurance.
What will happen to the other 40% of people in this country when they need long-term care help and have no plan for actually paying for it?
We want to fix that problem. The purpose of our series is to shed light and explain in plain English many of the issues and strategies surrounding long-term care and FLTCP 3.0 so that you can be comfortable when taking on this challenge and make informed decisions as to the best course of action.
Meanwhile, enjoy the cruise, we'll talk when you get back.
Stay tuned for out next article. 'ABC's of Long-Term Care and FLTCP 3.0 ' (hint, it's not just about nursing homes)
_________________________________________________________________________________________
Sources
* Source: (http://longtermcare.gov/the-basics/)
**(http://longtermcare.gov/cost-of-care-results/?state=US-MI_
***Life Happens is a nonprofit organization dedicated to helping consumers take personal financial responsibility through the ownership of life insurance and related products. The organization does not endorse any product, company or insurance advisor. Since its inception in 1994, Life Happens has provided the highest quality, independent and objective information for people seeking help with their insurance buying decisions
"The opinions and forecasts expressed are those of the author, and may not actually come to pass. This information is subject to change at any time, based on market and other conditions and should not be construed as a recommendation of any specific security or investment plan. Past performance does not guarantee future results."